Thesis
Service Now (NYSE: NOW) is a SaaS company that offers an enterprise software suite with a broad portfolio of services around IT management and workflow automation and optimization. The company had a terrific run on the recent years, but recently corrected according to the general market and in particular technology stocks. I see ServiceNow as a hold here, as it still trades at a high valuation.
Throughout the article I will also refer to ServiceNow as NOW.
Tailwinds macro
ServiceNow claims to be the beneficiary of several secular tailwinds. These tailwinds include the general transformation of business models: everything is going digital and companies that don't make the transition are being left behind. The pandemic particularly accelerated the adoption of the technology and thus helped ServiceNow.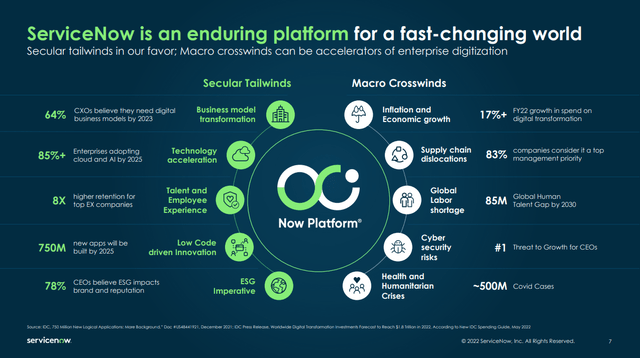 Low-Code is another tailwind for NOW. Many of NOW's software applications support low code and allow users to customize their workflows easily and seamlessly. This is underscored by ServiceNow's ranking as a Leader in Gartner's latest Magic Quadrant for Enterprise Low-Code Applications.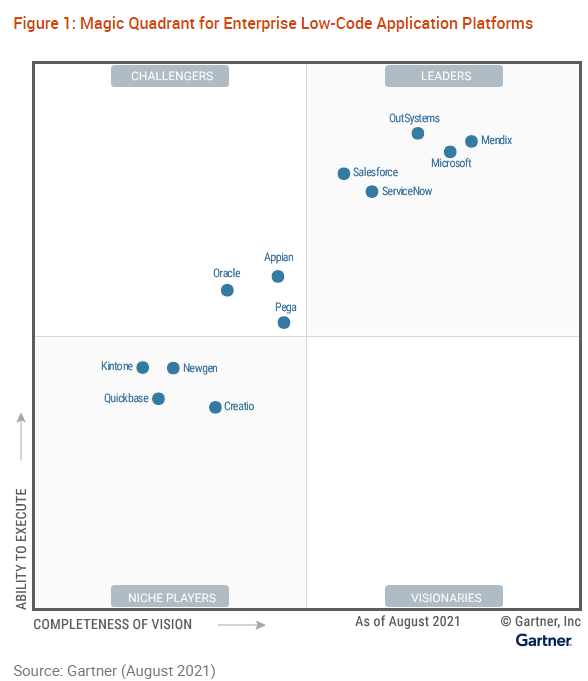 ServiceNow recently increased its projected TAM to $200 billion, according to their expectations driven by newly added products and services to the portfolio. The macro looks good and supportive for ServiceNow.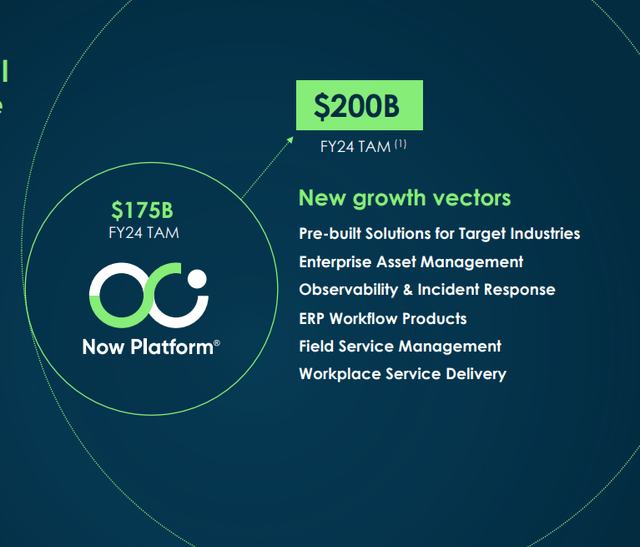 Run NOW through my SaaS checklist
I have a checklist of factors to consider for SaaS businesses, so let's take a look at the latest revenue report and see how ServiceNow performs with regards to:
Retention rate
Multi-product customers/number of modules
Number of customers with revenue >10 mil/100 mil
Gartner Magic Quadrant Positioning
Margins
Rule of 40
Retention rate
ServiceNow reports many useful metrics to analyze. The company reported renewal rates of 98% in the last quarter, with renewal rates remaining in the 97-99% range for the past 5 quarters. This implies a termination rate between 1% and 3%, excellent value. NOW's services seem to be deeply embedded in the customer's workflow, leaving very little reason to switch to another provider.
In 2021, NOW achieved a net expansion rate of 125%, so on average an existing customer spent 25% more than in the previous period. Unfortunately, they don't report this every year, but compared to 2020, it has remained stable at 125%. They also published that 2/3 of their existing customer base have spent extra dollars with NOW, compared to just 60% in 2020. This shows that more customers are deciding to spend more on additional services, but also that they are spending less on mean. It will be important to watch this trend going forward: is net expansion driven by more customers spending extra dollars or by customers spending higher extra dollars?
To sum up the retention, the renewal (or gross retention rate) is splendid at 98% and the net expansion rate of 125% is also very healthy.
Multi-product customers and number of modules
ServiceNow continues to deliver new products to keep customers spending more money every year. The pipeline is stacked and they expect three new products to launch in the second half of the year on top of the seven product launches they already had in the first half. Expanding the service ecosystem is one of the most crucial aspects of a SaaS business: new products serve two purposes, they allow existing customers to spend more and attract more new customers who can then be sold. with other products as well.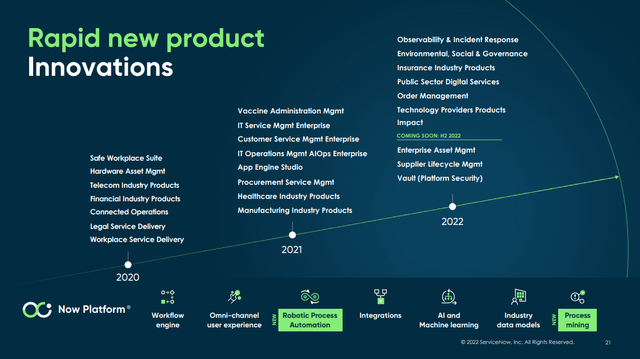 Unfortunately, NOW did not disclose the number of products its customers use on average in 2021, but they did disclose it in 2020. We can see that from 2016 to 2020, the biggest transactions took a big share. Unique product offerings were almost non-existent in 2020 and likely decreased to around 3% in 2021. 5+ product offerings now account for the majority of the share, a good sign of the rigidity and breadth of the offering NOW.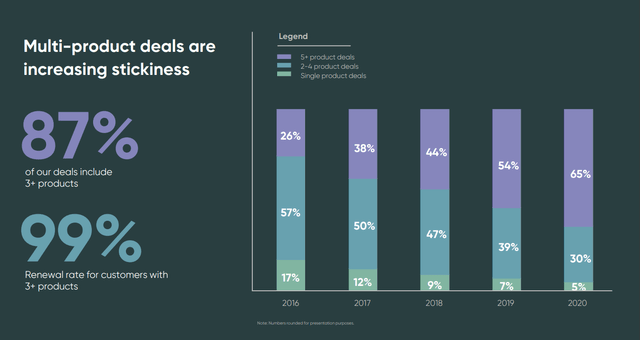 Number of large customers
NOW has done a great job raising the extra dollars for their big customers. I aggregated data from 2016 to 2021, 2019 being an exception where I couldn't find any data. We can see that all categories of customers have grown rapidly. The number of customers from 1 to 5 million increased by 3 times during the period, 5 million to 10 million increased by 8 times, 10 to 20 million increased by 4 times and customers by 20 million dollars have been multiplied by 7.5.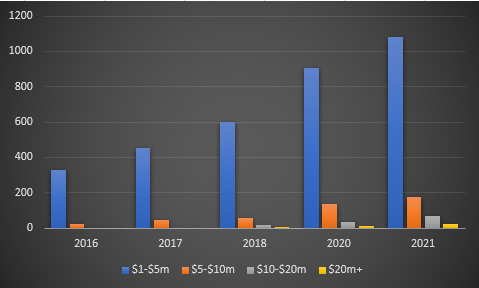 Gartner Magic Quadrant Positioning
Gartner is a great resource for gaining insight into a competitive landscape. I've already referred to the low-code magic quadrant, where ServiceNow shares the leadership position with companies like Salesforce (CRM) and Microsoft (MSFT). In the magic quadrant of IT service management tools, ServiceNow is the undisputed number one according to Gartner. Especially in the rapidly changing enterprise software landscape, companies need to keep pushing the boundaries and keep innovating. NOW's placement here is a good indicator that they are continuing to do so.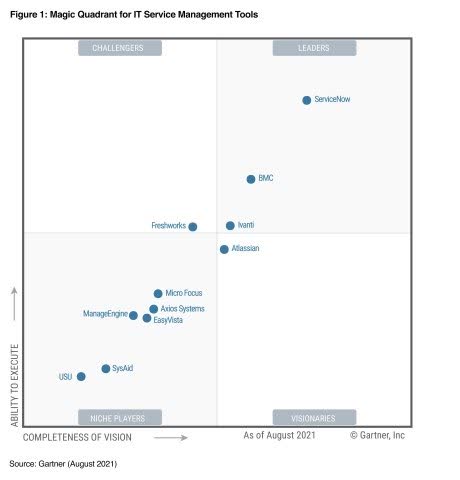 Margins
Over the past decade, ServiceNow has been able to continually grow its margins. Gross margins increased from the mid-1950s to the peak of the 1970s, showing the growing moat of the business in being able to leverage its competitive position and operate with higher profitability, as evidenced by growing profitability.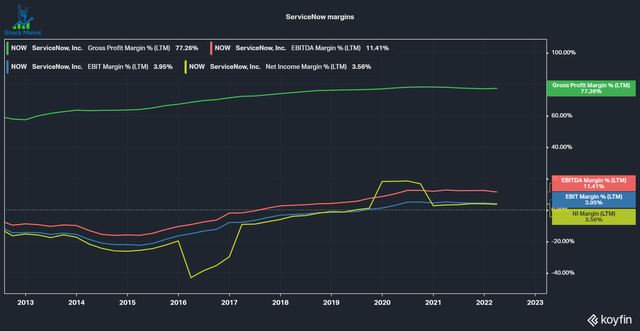 Rule of 40
The Rule of 40 is a metric to see if a SaaS business is growing healthily. The rule is calculated by adding the growth rate to the profit margin. There are different versions of the rule of 40, depending on the type of profit margin used. ServiceNow uses Free Cash Flow margin and they talk about the rule of 60. I also prefer to use Free Cash Flow margin, but I also want to talk about stock-based compensation. It's quite common for technology and especially SaaS companies to award employees excessive stock-based compensation.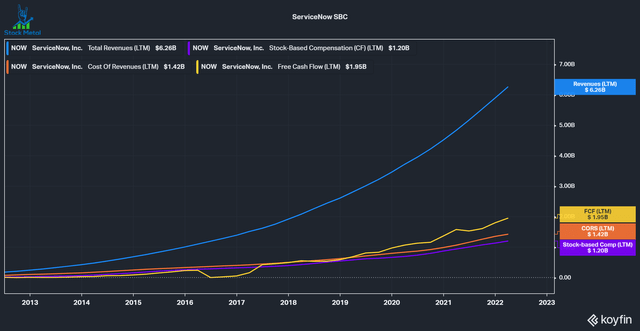 As we can see in the graph above, stock-based compensation is about as high as the cost of revenue and almost as high as free cash flow. I believe it is not fair to completely exclude these non-monetary expenses. While this does not harm the company's cash reserves, it directly dilutes all existing shareholders and therefore represents a cost to shareholders.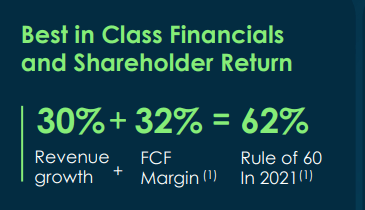 The company calculates its rule of 60 with 30% revenue growth + 32% FCF margin, which leaves it with 60 points. If we now exclude stock-based compensation, we end up with a free cash flow margin of 12%. 30% growth + 12% margin leaves us at 42 with my math, still beating the classic rule of 40. Great.
ServiceNow is always very popular
ServiceNow is a high-quality company, but it also trades at a high valuation. The company hasn't seen as large a decline as many of its peers in recent months. Many SaaS companies are down 70% and more, while NOW is only down 32%.
I want to compare ServiceNow to another SaaS company that I consider to be of equally high quality: Veeva Systems (VEEV). If you want to know more about the company, I wrote about Veeva in this article. ServiceNow is expected to grow a bit faster, while Veeva Systems is more profitable and still led by its founder. We can see that ServiceNow is trading at significantly higher multiples than Veeva Systems if we look at EV/EBITDA, PE and FCF performance. Only on a sales price basis do they cost the same (but we can't overlook Veeva's higher margins).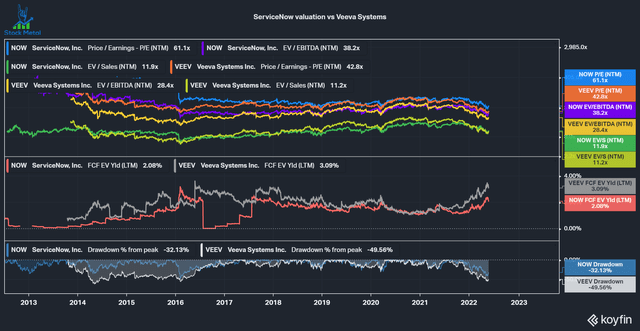 Conclusion
ServiceNow is a high-quality company with an excellent market position and predictable, low-churn revenue. I do believe, however, that there are better offerings on the market right now, such as Veeva Systems (which I personally have in my portfolio). If ServiceNow continues to fall and grows contracts to around 40 PE forward, I would consider opening a position.