Premier Overview
Premier, Inc. (NASDAQ: PIN) is a company dedicated to improving healthcare. To change healthcare, the company brings together an alliance of more than 4,100 hospitals and healthcare systems in the United States and approximately 200,000 other providers and organizations.
Supply Chain Services and Performance Services are the two reportable business segments of the company. Its Supply Chain Services section runs direct sourcing and group purchasing organizations ('GPOs') for the healthcare industry. The Company's Performance Services business offers government services, consulting services, performance improvement collaboration, software-as-a-service ("SAAS") computing solutions, data and integrated analytics , as well as insurance management.
The company participates in the healthcare industry by working with its members to co-develop long-term innovations that reinvent and improve the way care is delivered to people across the country.
Industry Outlook
Due to:
Continued pressure on reimbursement rates from government and managed care payers
A shift in the payment model from fee-for-service to value-based payment
And the fact that national health expenditure is a significant part of the economy
Healthcare providers are looking at all possible sources of cost reduction, with supply chain spending being a key area of ​​focus.
Before being consumed by the provider or patient, healthcare items travel through an extended supply chain that includes manufacturers, distributors, GPOs, pharmacy benefit managers, retailers, long-term care and integrated pharmacies. Supply chain participants are looking for more convenient and affordable ways to get goods to patients and providers in response to the national focus on healthcare spending and cost management.
By aligning it with other industries that have more sophisticated supply chain management, improving the healthcare supply chain can minimize inefficiencies and material costs.
For these reasons, the healthcare supply chain market could potentially grow at an attractive rate.
Healthcare supply chain management was valued at $2.19 billion globally in 2020, and according to Emerging research datathis market would grow to USD 3.94 billion by 2028, growing at a revenue CAGR of 7.6% during the forecast period 2021-2028.
Competition
The markets for its goods and services in its supply chain services segment and in the performance services segment are fragmented, fiercely competitive and defined by constantly changing user demands, product standards and technological advances .
Other major GPOs, including Managed Health Care Associates, Inc., Vizient, Inc., and HealthTrust Purchasing Group (a division of HCA Holdings, Inc.), are major rivals in its supply chain services business. Premier also faces competition in this market from online vendors and some healthcare provider-controlled GPOs. Its direct sourcing initiatives compete primarily with distributors, producers and private label options from companies such as Cardinal Health (CAH), McKesson Corporation (MCK), Medline Industries and Owens & Minor (OMI).
Rivals in its Performance Services category range from small, specialized businesses to large, well-funded, tech-savvy organizations. Information technology companies like Allscripts Healthcare Solutions (MDRX), Cerner Corporation, Change Healthcare (CHNG), Epic Systems Corporation, Health Catalyst (HCAT) its main rivals in this market segment, as well as consulting companies and outsourcing companies such as Deloitte & Touche LLP, Evolent Santé (EVH) and Healthagen.
Competitive position:
According to a Presentation of the Premier company, the company says one of its competitive advantages is its integrated platform that offers fully technology-based solutions. They use modern technologies such as AI and machine learning, state-of-the-art services and analytics to improve the clinical and financial progress of its clients.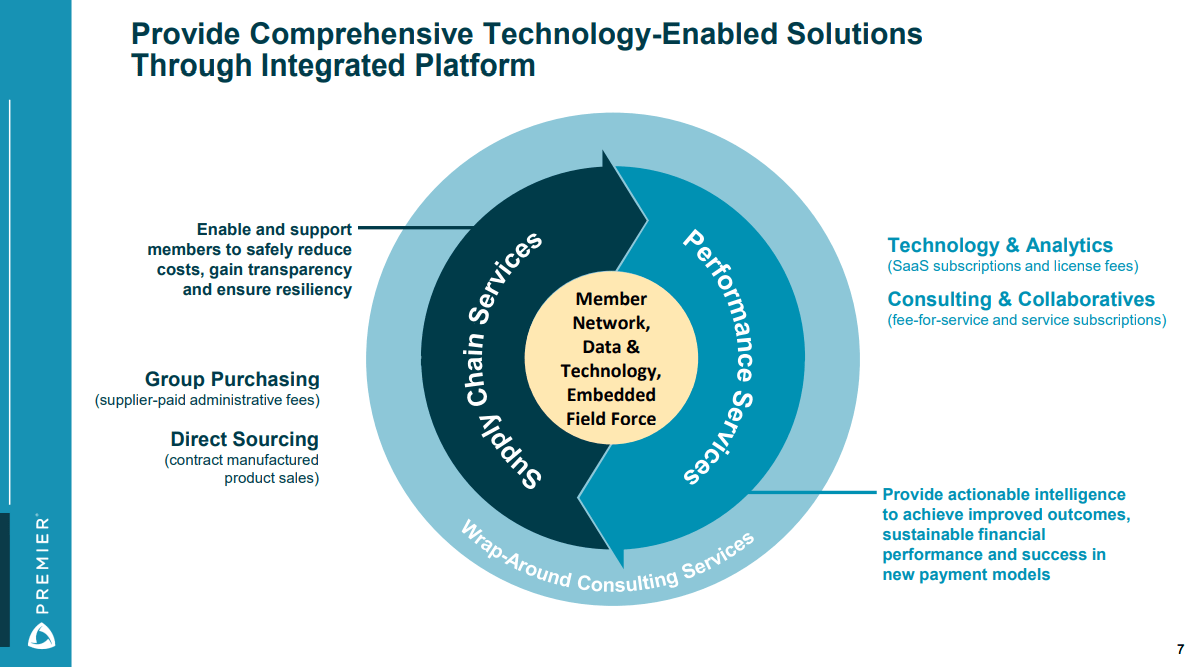 They also state in their presentation that in addition to its technological enablement, its partnership and collaboration since 1996 has led to innovation that improves and accelerates both the quality and cost-effectiveness of healthcare for its customers.
Another of its competitive strengths is its large nationwide footprint in the United States, which translates into large-scale savings and a well-known brand.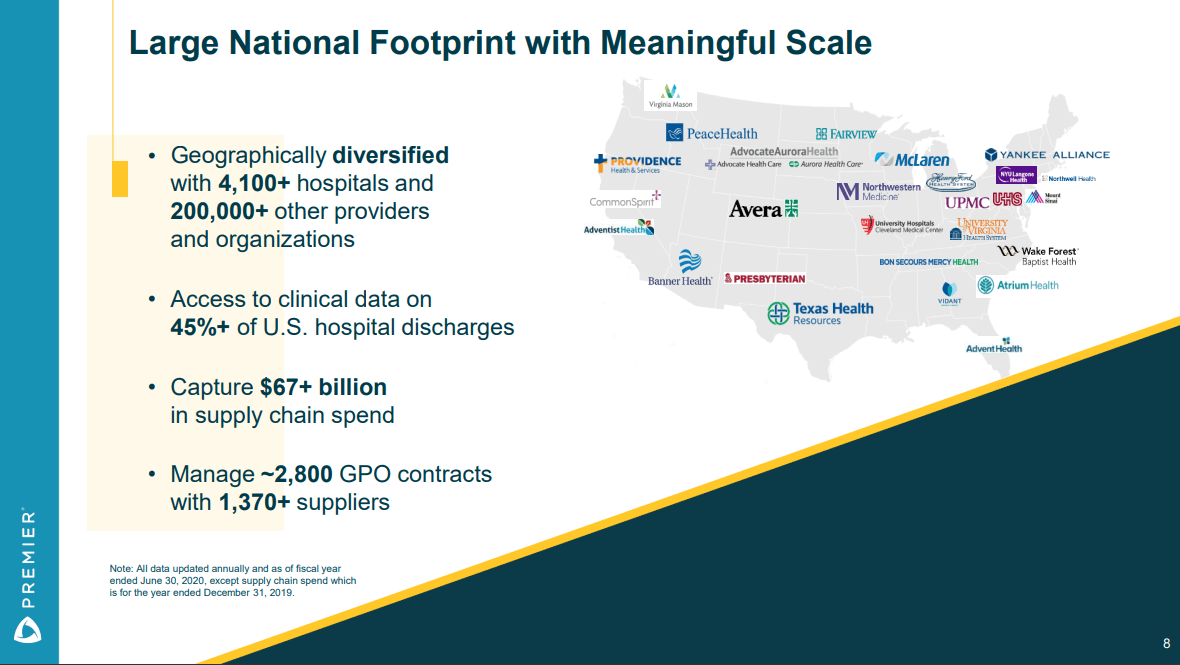 To further strengthen its capabilities and product offering, Premier acquired several companies. According to its latest annual report, the company acquired Medpricer in 2019, a SaaS provider of technology solutions that enables hospitals and other businesses to rate, compare and source. In 2020, they acquired Acuty, a regional GPO and Nexera, a hospital financial improvement consulting firm. They also purchased Health Design Plus, a third-party administrator that takes care of staff care. In 2021, it acquired Invoice Delivery Services, a digitization company.
I think the quality of its products can be confirmed as the presentation states that Premier has a high Net Promoter score of 70 (a market research measure that indicates user sentiment). The company also has an average three-year GPO retention rate of 98% and an institutional SaaS renewal rate of 96%, indicating that its current users are benefiting enough from its product to stay. Otherwise, Forbes named Premier as one of the top 218 management consulting firms in the United States in 2022. This list was formed
by interviewing 7,500 partners and executives of management consulting firms, as well as approximately 1,300 senior executives who have worked with such firms over the past four years.
Despite the strong competition, I believe the company has a relatively strong competitive position as it is respected by users and leaders, apparently due to its product offerings which have been shaped by a long history of technology activation, partnership and collaboration.
Valuation & Financial Performance
Base Stats Comparison:
| | | | | | | |
| --- | --- | --- | --- | --- | --- | --- |
| index | EP before | Gross margin | Free Cash Flow Margin | Sales growth over 3 years | EPS growth over 3 years | Debt Equity |
| First | 13.59 | 55.97% | 29.66% | 13% | – | 0.27 |
| UnitedHealth | 24.51 | 23.89% | 6.46% | 8% | 14% | 0.65 |
| Changing healthcare | 14.79 | 59.34% | 12.08% | – | – | 1.42 |
| Owens and Miner | 10.58 | 14.64% | 1.26% | 1% | – | 3.01 |
| health catalyst | Nope | 48.45% | -12.88% | 29% | – | 0.52 |
Source: Alpha Research
Premier, compared to its competitors, is relatively inexpensive. Its forward PE ratio is also cheaper than the S&P 500 median PE of around 15.
Its 3-year sales growth is quite high. However, it has blown out of proportion a bit due to explosive sales of COVID-related personal protective equipment in 2021, according to its latest annual report. As the COVID pandemic subsides, revenue growth is normalizing again, according to its latest quarterly report. Nonetheless, over the years, Premier has seen its revenue grow fairly steadily, along with its diluted EPS.
In addition, as the company has a low debt ratio, high free cash flow margin and low beta of 0.29I believe the stock is relatively low risk.
Final grip
Overall, I think Premier is a great buying opportunity. It has a broad presence in an attractive and important market, while acquiring new businesses to maintain and improve the quality of its product offering. In addition, the stock is relatively low risk. Additionally, the stock is currently cheaper than other players in the healthcare market, as well as the median of the S&P 500.